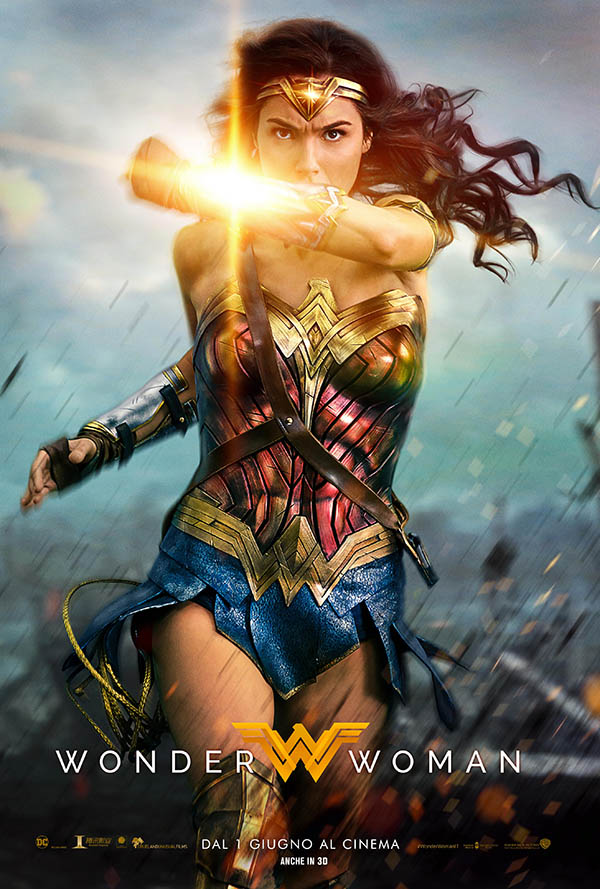 Sinossi
Il prossimo giugno Wonder Woman arriverà sugli schermi di tutto il mondo e Gal Gadot ritorna al ruolo che dà il titolo alla pellicola, nel film di avventura diretto da Patty Jenkins (Monster, The Killing per la AMC).  A fare compagnia alla Gadot nel cast internazionale del film, troviamo Chris Pine (i film di Star Trek), Robin Wright (Millennium – Uomini che odiano le donne,  House of Cards per Netflix), Danny Huston (Scontro tra titani, X-Men: le origini – Wolverine),  David Thewlis (i film di Harry Potter, La teoria del tutto), Connie Nielsen ( The Following per la Fox, Il Gladiatore), Elena Anaya (La pelle che abito), Ewen Bremner (Exodus: Dei e Re, Snowpiercer), Lucy Davis (Shaun of the Dead,Better Things per la FX), Lisa Loven Kongsli (il prossimo Ashes in the Snow), Eugene Brave Rock (Hell on Wheelsper la AMC) e Saïd Taghmaoui (American Hustle).
Prima di diventare Wonder Woman, era Diana, la principessa delle Amazzoni, cresciuta su un'isola paradisiaca ben nascosta e addestrata a diventare una guerriera invincibile. Quando un pilota americano compie un atterraggio di emergenza sulle sue sponde e racconta di un enorme conflitto scoppiato nel mondo esterno, Diana abbandona la propria casa convinta di poter porre fine alla minaccia. Combattendo al fianco dell'uomo in una guerra che metta fine a tutte le guerre, Diana scoprirà i suoi pieni poteri… e il suo vero destino.
Patty  Jenkins  dirige  il  film  da  una  sceneggiatura  di Allan  Heinberg  e  Geoff  Johns,  un  soggetto  di Zack  Snyder  &  Allan Heinberg, basato sui personaggi della DC.  Wonder Woman è stata creata da William Moulton Marston. Il film è prodotto da Charles Roven, Deborah Snyder, Zack Snyder e Richard Suckle, con Stephen Jones, Geoff Johns, Jon Berg, Wesley Coller e Rebecca Steel Roven come produttori esecutivi. Il  team  di  Jenkins  include  inoltre,  il  direttore  della  fotografia  Matthew  Jensen  (Chronicle, Fantastic  4  –  I  fantastici quattro, Game of Thrones per la HBO), la scenografa candidata all'Oscar® Aline Bonetto (Il favoloso mondo di Amélie, Una lunga domenica di passioni, Pan – Viaggio sull'isola che non c'è), il montatore premio Oscar® Martin Walsh (Chicago, Jack Ryan: L'iniziazione, V per Vendetta) e la costumista premio Oscar® Lindy Hemming (la trilogia di The Dark Knight, Topsy-Turvy  –  Sottosopra).  La  musica  è  del  compositore  Rupert  Gregson-Williams  (La  battaglia  di  Hacksaw  Ridge, The Legend of Tarzan). La  Warner  Bros.  Pictures  presenta,  in  associazione  con  Tencent  Pictures  e  Wanda  Pictures,  una  produzione  Atlas Entertainment/Cruel and Unusual, Wonder Woman. Il film uscirà nelle sale italiane dal 1 giugno 2017 e sarà distribuito dalla Warner Bros. Pictures, una compagnia della Warner Bros. Entertainment.
Disponibile dal
20 dicembre 2017
Cast
Gal Gadot, Robin Wright, Connie Nielsen, Danny Huston, David Thewlis, Ewen Bremner