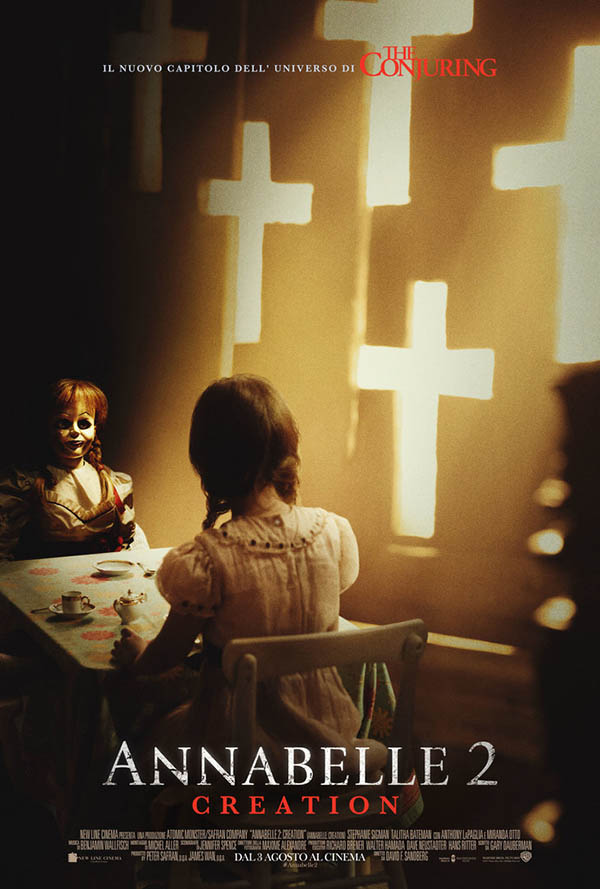 Sinossi
È tornata!
Per New Line Cinema arriva Annabelle 2: Creation, diretto da David F. Sandberg ("Lights Out: Terrore nel buio"), seguito del grande successo del 2014 Annabelle, che ha incassato oltre 257 milioni di dollari al botteghino. Il nuovo film è prodotto ancora una volta da Peter Safran e James Wan, che avevano già collaborato anche per i blockbuster The Conjuring.
In "Annabelle 2: Creation", diversi anni dopo la tragica morte della loro bambina, un fabbricante di bambole e sua moglie accolgono in casa una suora e alcune ragazze provenienti da un orfanotrofio che è stato chiuso. Presto diventano l'obiettivo della bambola posseduta Annabelle.
Sandberg dirige la sceneggiatura di Gary Dauberman, che aveva scritto anche "Annabelle." Il film è interpretato da Stephanie Sigman ("Spectre"), Talitha Bateman ("La quinta onda"), Lulu Wilson ("Ouija 2 – L'origine del male", "Liberaci dal male"), Philippa Coulthard ("After the Dark"), Grace Fulton ("La rabbia giovane"), Lou Lou Safran ("The Choice"), Samara Lee ("Foxcatcher – Una storia americana", "L'ultimo cacciatore di streghe"), Tayler Buck al suo debutto cinematografico, Anthony LaPaglia ("Senza traccia" per la Tv) e Miranda Otto ("Homeland" di Showtime e la trilogia de "Il Signore degli anelli").
I produttori esecutivi sono Richard Brener, Walter Hamada, Dave Neustadter e Hans Ritter.
Nella squadra di Sandberg, la stessa di "Lights Out: Terrore nel buio", ritroviamo la scenografa Jennifer Spence, il montatore Michel Aller e il compositore Benjamin Wallfisch, ai quali si sono uniti il direttore della fotografia Maxime Alexandre ("The Other Side of the Door") e la costumista Leah Butler ("Paranormal Activity 3 e 4").
In uscita il 3 agosto 2017, "Annabelle 2: Creation" è una presentazione di New Line Cinema, una produzione di Atomic Monster/Safran Company. Il film sarà distribuito da Warner Bros. Pictures, una società della Warner Bros. Entertainment.
Disponibile dal
27 dicembre 2017
Cast
Stephanie Sigman, Talitha Bateman, Lulu Wilson, Philippa Anne Coulthard, Grace Fulton, Lou Lou Safran, Samara Lee, Tayler Buck, Anthony LaPaglia, Miranda Otto