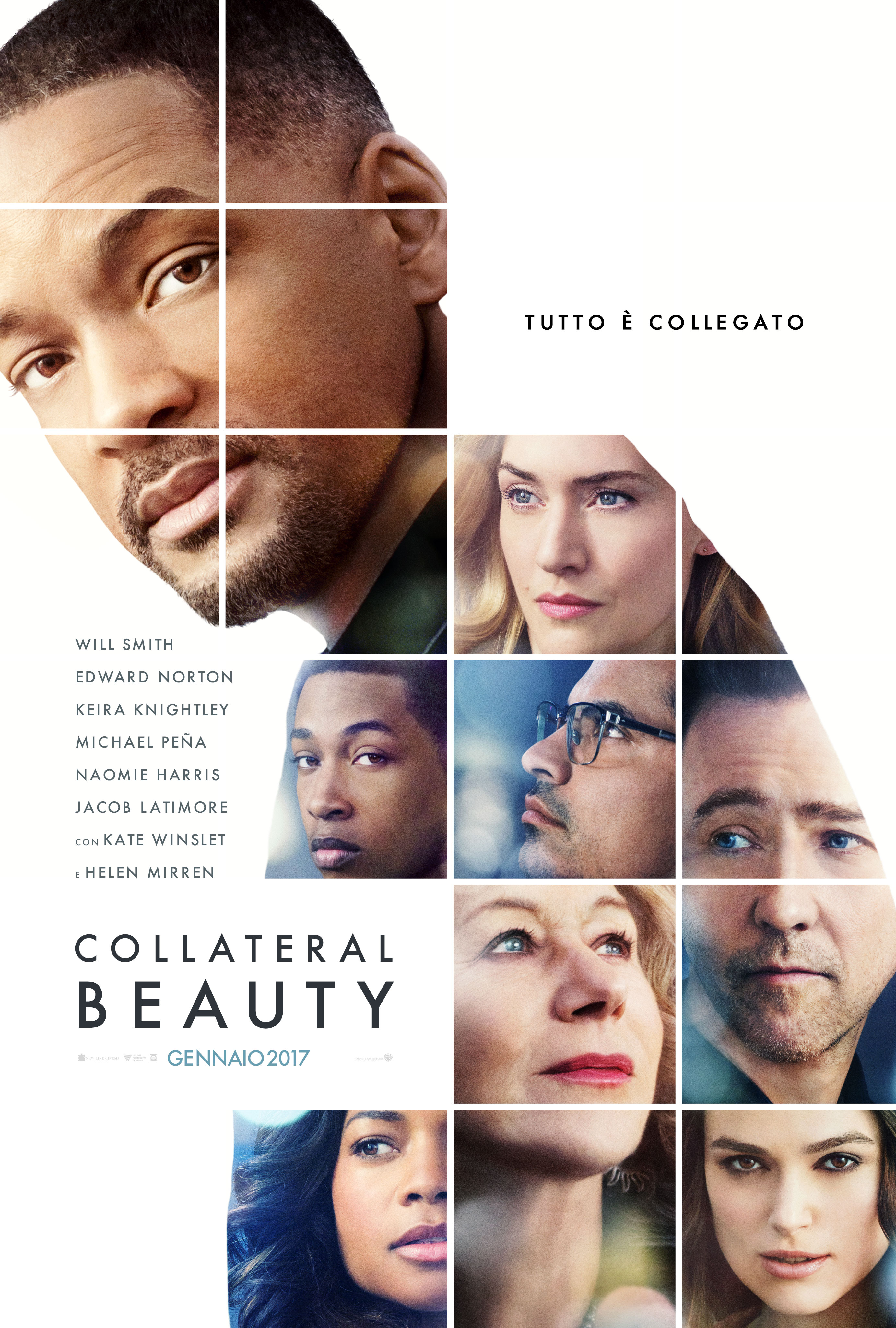 Sinossi
A seguito di una tragedia personale, un importante dirigente di New York decide di vivere la sua vita senza più l'entusiasmo di una volta. A quel punto, alcuni suoi amici escogitano un piano drastico per evitare che perda interesse in ogni cosa. Spingendolo al limite, lo costringono a confrontarsi con la verità con modi umani profondi e sorprendenti.
Dal regista premio Oscar® David Frankel, questo dramma provocatorio, mostra come una perdita dolorosa possa rivelare anche momenti di bellezza, e di come le costanti di amore, di tempo e di morte possano convivere con una vita vissuta in pieno.
"Collateral Beauty vede la presenza di un cast stellare, tra cui Will Smith ("Suicide Squad, "Concussion), Edward Norton ("Birdman or [The Unexpected Virtue of Ignorance]), Keira Knightley ("The Imitation Game), Michael Peña ("The Martian), Naomie Harris ("Spectre), Jacob Latimore ("The Maze Runner), con i premi Oscar® Kate Winslet ("The Reader, "Steve Jobs) e Helen Mirren ("The Queen, "Trumbo).
David Frankel ("Dear Diary, "Marley & Me, "The Devil Wears Prada) dirige il film da una sceneggiatura di Allan Loeb ("Wall Street: Money Never Sleeps, "21). Il film è prodotto da Bard Dorros ("Triple 9), Michael Sugar (Candidato all'Oscar come Migliore Film per "Spotlight), Allan Loeb, Anthony Bregman ("Foxcatcher) e Kevin Frakes ("John Wick). I produttori esecutivi sono Toby Emmerich, Richard Brener, Michael Disco, Michael Bederman, Peter Cron e Bruce Berman.
Il team creativo dietro la cinepresa di Frankel include il direttore della fotografia, Maryse Alberti ("Creed), la scenografa Beth Mickle ("Whiskey Tango Foxtrot), il montatore Andrew Marcus ("American Ultra) e la costumista Leah Katznelson ("How to Be Single). Le musiche sono composte da Theodore Shapiro ("Trumbo).
L'uscita italiana del film è prevista a gennaio 2017.
La New Line Cinema presenta, in associazione con Village Roadshow Pictures, una produzione Anonymous Content/an Overbrook Entertainment, PalmStar Media e Likely Story: "Collateral Beauty. Il film sarà distribuito dalla Warner Bros. Pictures, una compagnia della Warner Bros. Entertainment, e in alcuni territori selezionati dalla Village Roadshow Pictures.
Disponibile dal
04 maggio 2017
Cast
Will Smith, Edward Norton, Keira Knightley, Michael Peña, Naomie Harris, Jacob Latimore, Kate Winslet, Helen Mirren